D. Montgomery Bissell, M.D.
Dr. D. Montgomery Bissell
Gastroenterology
Director – UCSF Liver Center
Professor of Medicine
University of California, San Francisco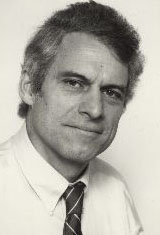 Dr. Bissell is a Professor in the Division of Gastroenterology at the University of California, San Francisco. In addition to numerous publications on the diagnosis and treatment of Porphyria, he was a developer of Panhematin®, the first medication to be approved under the Orphan Drug Act of 1983. Panhematin® remains the only specific treatment available for the acute Porphyrias in the United States. (A different human heme preparation, heme arginate, brand name Normosang® is available in Europe and elsewhere).
Dr. Bissell has served on the APF Scientific Advisory Board since its inception in 1982, and is now supervising young doctors as part of our Protect the Future program to train the next generation of Porphyria specialists. The contributions of Dr. Bissell and his colleagues have helped advance the APF's work. Their expertise has given both the APF, and those who turn to us for help, the confidence of knowing that reliable information about the Porphyrias is available. Today, Dr. Bissell's is working to ensure the continuity of care for Porphyria patients throughout the United States.