Jennifer Beck
Type of Porphyria
Erythropoietic Protoporphyria (EPP)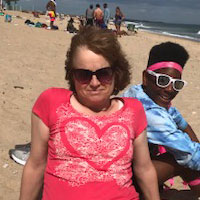 My name is Jennifer Beck, I'm 51 years old, married with 4 children and I was born with EPP (erythropoietic protoporphyria). It has always been a challenge living with EPP; avoiding exposure to the sun at all costs, missing social events and struggling with pain and loss of function when exposure occurred. April 21, 2017 is the day my life turned upside down. My EPP was exacerbated (cause unknown) to include an intense reaction to all visible light – sunlight, incandescent bulbs, halogen bulbs, LED bulbs, fluorescent lights, computer screens and cell phones. I had to run out of my place of employment; my skin was on fire and there was no place of refuge – I was assaulted in every space of the building and running outside was no help – the sun bounced off the pavement as I cowered in the shade. It was as if hot boiling oil was pouring on my skin and my brain was exploding in fear and panic. I called my husband in a panic and drove home in tears.
Exposure to light of any kind left me in agonizing pain. Even with all the lights off and blinds drawn, I dressed head to toe in protective clothing to prevent incidental exposure. We struggled to cook, read and eat by candlelight. I spent hours alone in my room in the dark while my husband and four children tried to function without me. My husband and I woke and hiked at 4am to take advantage of the pre-dawn. I meditated, prayed and tried to think of things be grateful for. I believed I would have a mental breakdown from the intense isolation and darkness.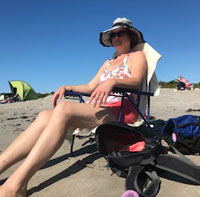 Although my employer made extraordinary accommodations for me, I was only able to work about 30% of my hours - in darkness, using a filtered flashlight to read and provide direct occupational therapy to individuals with intellectual disabilities in their group homes with the lights off if they could tolerate it.
With extreme precautions to avoid all sources of light I remained in constant pain and lived in fear of exposure to any light source. There is no medication for pain relief. Nights were sleepless. My husband and children couldn't touch me anymore because I was always in a reaction. I talked to my doctor about medication for my mental health.
I communicated with my porphyria expert at Mt. Sinai, with the American Porphyria Foundation and Dr. Kendall Marcus of the FDA about accessing the only clinically proven treatment for EPP; Scenesse (afemelonantide). All recommended my best course of action was to seek treatment in Switzerland. Dr. Minder at Stadtspital Triemli agreed to provide treatment with Scenesse and I had my first implant August 4, 2017.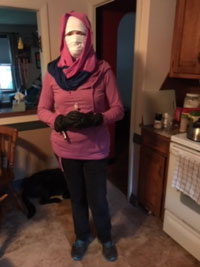 My experience with Scenesse has been miraculous and life changing. Within two weeks of my implant I was able to fully tolerate all sunlight and artificial light without limits. I became something I never was – cutaneous normal. I was back to working 40 hours a week with zero reaction to any light source. I was attending school conferences and watching soccer games with my kids. I was able to go to the Dentist and the doctor for vital health maintenance. The blinds are open; the lights are on and I am pain free, day after day, night after night.
I seek treatment in Switzerland every 9 weeks at great financial risk to myself and my family. Each treatment costs around $20,000 : $18,000 for the implant and $2,000 in travel expenses. We have taken a loan against our home. My friends, family and co-workers have held fund raisers – selling sandwiches and cookies at lunchtime, holding raffles, to help offset some of the costs. My health insurance has begun reimbursing me inconsistently since I switched plans a year ago. The recent FDA approval of Scenesse gives me hope that insurance payment will be simplified and accessible.