Robert Saupe'
Type of Porphyria
Erythropoietic Protoporphyria (EPP)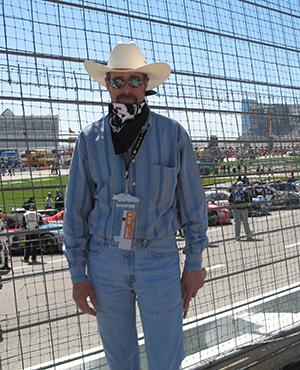 When Robert was a baby, his mom went to hang up clothes outside and put him on the grass so she could watch him. After a short time, Robert started screaming and crying. For years, Robert was tested for various allergies, including grass pollen, soap and various foods. When Robert was nine years old, his mom took him to see a doctor who had just completed an internship under Dr. James Kushner, an expert in porphyrias. The doctor looked at Robert's hands and face, suspected that he had porphyria and told him to make an appointment with Dr. Kushner.
Robert remembers going into the lab where Dr. Kushner did his testing. Dr. Kushner left the room, and when he came back he said, "Bobby, you have porphyria." Dr. Kushner has called Robert "Bobby" ever since that day, and is the only person who calls him that. The nickname made Robert feel special. Dr. Kushner then kindly put a band-aid on Robert and wrote "slugger" on it, since Robert was starting baseball season.
Everyone in Robert's family provided blood samples to trace the origin of his Erythropoietic Protoporphyria (EPP). Robert was tested every six months and at 16 he gave a core sample to be tested for research.
Robert tried beta carotene, but the cost became prohibitive. Instead, he set out to build up a tan. He says that the more pigmentation he can get built into his skin, the better he can tolerate the sun. Unfortunately, building up the pigmentation can be terribly painful.
Although Robert had his gallbladder removed as a result of a buildup of porphyrins, he does not let his EPP keep him from living his life. He goes fishing early in the morning and works outdoors. Due to his excavation job, Robert has had to manage his EPP very carefully. He protects himself everywhere he goes by wearing leather gloves, wide-brim hats, 100% cotton shirts and bandanas over his face.
Robert works hard at photoprotection and copes with his EPP with humor. When a bystander saw Robert wearing a bandana at a NASCAR race, he asked if Robert had robbed a 7-11. Robert replied: "shh, I'm in hiding."
Robert is very excited about participating in the Afamelanotide trials in Salt Lake City. He recently reconnected with his 22 year old twins, who live in Salt Lake City. Robert says that years ago he was a bad character, but he gave his life to the lord and completely changed. Robert now talks to his children every day and enjoys hearing his son say, "Love you, Dad." Robert has been saving for his trip and is looking forward to seeing his children.