Porphyria Awareness Week 2019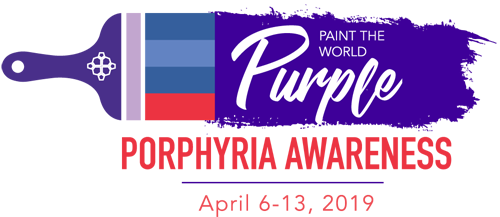 Porphyria Awareness week is an opportunity for you to
create awareness in your community!
The American Porphyria Foundation is here to support you with ideas, brochures, materials, social media files – and any support that you may need to raise awareness about Porphyria in your community, to the general public or to physicians. We will be adding to this page over the next few weeks – so come back often to check for additional information.
Events
PAINT THE WORLD PURPLE FOR PORPHYRIA AWARENESS Did you know that Porphyria is named from the ancient Greek word porphura, meaning purple? All week long, we will share pictures of you "painting" the world purple for Porphyria. A class, a team, at work, your pets…get creative and send us your images at info@porphyriafoundation.org.
CLICK CAMPAIGN This year, we will be launching a click campaign on Saturday April 6 running through the week. For every CLICK, the APF will receive a $5 donation. Get ready to share with your online community.
COMMUNITY EVENTS Across the US, and even the globe, patients are planning community events. A Fun Run in New York, a Fitness Fundraiser in California, delivering Physician Education Packets in California….what will you do?
Merchandise
New merchandise will be available very soon in the APF Store - https://porphyriafoundation.org/apf-store.
Logos and Materials
Please use the attached logos for your local events.
Digital and print logos are included here.
Printable one-sheet flyer is included here.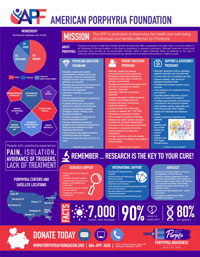 Facebook and Social Media
Open this link to join our Facebook groups: https://www.facebook.com/AmericanPorphyriaFoundation/
The APF will be sharing Member Stories, Medical Moments, trivia and more each day in our open and closed Facebook groups. Make sure to join before April 6th! You can even change your photo with a new Facebook frame. You can also set up a fundraiser on your personal page supporting the APF.
Media Kit
For everything you need to know about the American Porphyria Foundation all in one place, check out our media kit. Within this file you will find information about the APF, the Porphyrias, board members, the latest news and more.
DONATE
We are grateful for all donations during Porphyria Awareness Week! https://porphyriafoundation.org/get-involved/donate
CONTACT THE APF FOR ALL YOUR PORPHYRIA AWARENESSS WEEK NEEDS!
866-APF-3635 or porphyrus@porphyriafoundation.com