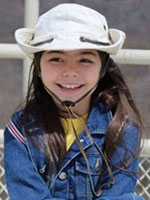 Cheyenne Ludwig (pictured on the right), age 9, and her family, from Northern Cambria, Pennsylvania plan on shadow jumping astride a beautiful black horse. Cheyenne has always had a love for horses and has wanted to ride one since she saw Free Rein – a movie where the main character bonds with a mysterious black horse.
We look forward to providing dreams come true for these two young Shadow Jumpers and their supportive families!
Find Your Shadow is a program that was created to help children with EPP live their dreams…with a little help from us! In its' third year, the 2020 program offered the opportunity to kids to do something they have always wanted to try but may have not because of EPP.