Kim Willis-Bregmen
Type of Porphyria
Acute Intermittent Porphyria (AIP)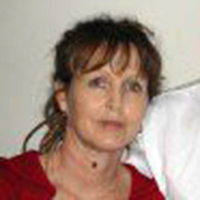 My wife and I live in Otaki which is a small rural community one hour north of Wellington on the North Island of New Zealand. I thought you might be interested in the story of how my wife manages Acute Intermittent Porphyria (AIP) in a country that has no specialist centre for Porphyria and consequently no specialists.
Kim was admitted to our nearest hospital in 2003 with abdominal pain, back pain, vomiting, and sore arms and legs, and was in a very bad way. Her blood pressure rose dangerously high, and she suffered a mini-stroke and multiple seizures and spent days in intensive care whilst tests were done to investigate the diagnosis of porphyria. Kim's grandfather had died of a condition that fit the symptoms of porphyria but was never diagnosed. Her mother was also very sick with multiple hospitalisations at a similar age (Kim was 36 at the time of this first hospitalisation), but was never diagnosed either. In Kim's case, tests were completed and AIP was the diagnosis.
Kim spent 13 weeks in hospital and rehabilitation during this first visit and ended up under the care of a gastroenterologist who had worked in England and had seen similar symptoms in patients diagnosed with porphyria. Kim's need for physiotherapy was a result of the major nerve damage she suffered—she had to learn to use her hands and legs again, at the end of what would prove to be only the first of 30 hospitalisations in a three-year period. For most of these hospitalisations we dealt with the same nightmare over and over again: Kim would be admitted through the Emergency Department, receive delayed treatment because she had no treatment programme in place or she simply received the wrong treatment, which made her condition worse.
Kim's hospitalisations seemed to cycle with the start of her periods, and every month she was hospitalised with an attack that took a toll on her body—she had renal problems, neuropathy, severe weight loss and loss of bone density. At hospital they couldn't stop the acute attacks, they could only wait until the attacks subsided and then stabilise the problems caused by the attacks. Treatment was basically intervention glucose therapy to stabilise her, while eliminating all other complications that were presented.
After Kim's three years in and out of hospital, I began searching the Internet and joined the American Porphyria Foundation. It was here, through members' stories, that I managed to get information about managing this condition and stabilising Kim's health, including finding out what treatment was used overseas. I don't know what we would have done without the Internet and the group support. I suppose we would be still struggling to this day.
I passed my findings on to our specialist, who agreed that we should try heme therapy to control Kim's condition. Kim and I had decided to fund the first dose ourselves, but our specialist presented Kim's case to the health authorities, and fortunately based on the cost of hospitalisation and the damage being done to Kim's body, we got funded. Kim was finally treated with heme therapy for the first time in September/October 2005 with a marked improvement in pain control and reduced time spent in hospital.
Kim was administered heme therapy as an inpatient as we are one hour from the nearest hospital and there was no one local who was certified either to mix and administer the heme or to access Kim's portacath. Now the local district nurse is certified to access the portacath and to draw lab tests to monitor Kim's condition.
Eventually we got to a position where Kim received hemin early in an attack and this stopped the attack before it progressed and did serious damage. Kim's story is really about the struggle of living with AIP for years with no support network, and about the frustrations of not being able to tame the beast until our lucky break with heme therapy.
Kim's final hospitalisation was in February 2007. The months that followed were filled with physiotherapy where Kim learned to use her arms and legs again, as much of her muscle had wasted away and been damaged by neuropathy-related problems.
At the time of her first hospitalisation, Kim had worked for 16 years as a sales executive for a local radio station. The station held her position open for her for a year beginning with her first attack, but as her health didn't improve the position was filled. Kim rejoined the work force part time as an assistant for the managing director of the New Zealand Radio Training School in March of 2008. In January 2009 Kim accepted the job of General Manager for the school. She now works four days of each week in Wellington and one day from home and loves every moment.
Kim has ongoing issues with abdominal pain, back pain and pain in her limbs, which she manages with a better diet and the removal of all things that could precipitate another attack. Kim also takes medication for pain and takes a few days out of her busy job when it all gets too much. All things considered, she now lives a pretty normal life.
We also have a hospital admission process in place that bypasses the emergency department so that Kim can go straight to a ward to have immediate pain relief and heme infusion.
We are confident that with the knowledge we now have, and support networks and treatments in place, we are very well equipped to tackle this purple monster head-on should we ever have the misfortune to encounter its fury again. We have never had to use this new process and hopefully won't have to in the future.
Our son has been DNA tested and carries the same gene for AIP as Kim and her mother. He is 18 and has no complications to date.
Blair Bregmen
Husband and caregiver