Shadow Jumpers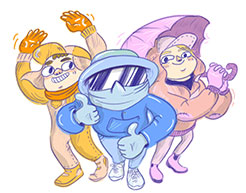 Welcome to Shadow Jumpers! This is a page for EPP kids and parents by EPP kids and parents. Shadow Jumpers was created to help give kids with Erythropoietic Protoporphyria (EPP) and their families a place to learn about this rare disease, read tips and tricks learned over time and to hear from fellow kids. Through spreading awareness, fellow EPP interviews, tips to protecting yourself outside and some insight for parents, we hope all families living with EPP will look at this condition as a challenge they can overcome. Be sure to check out all the Shadow Jumper resources! We'd love to hear from you. Reach out to us anytime on shadowjumpers@porphyriafoundation.org!!
A main goal of Shadow Jumpers is to help kids living with Erythropoietic Protoporphyria do things they have always wanted to do but have not been able because of the sun. There are only several hundred diagnosed cases of this ultra-rare genetic disorder in the United States – so we need to learn from and support one another! Pain from the sun combined with the mental discomfort kids can feel from having to cover up may lead kids to avoid certain activities, relationships and paths in life.
Shadow Jumpers wants to show (and remind) kids that they can still follow their dreams! Whether that's trying to play a sport outdoors, going on a family vacation, camping or whatever comes to mind, Shadow Jumpers wants to help. Click around to learn about some awesome EPP kids, how we are trying to do our part and how you can too!
Here are ways to connect with Shadow Jumpers!
FIND YOUR SHADOW 2021 NOW OPEN
Shadow Jumpers is excited to announce applications are now open for our fourth annual FIND YOUR SHADOW program. Last year we were thrilled to have selected Anthony Zamora and Cheyenne Ludwig as our recipients. Unfortunately, due to COVID restrictions nationwide, we had to roll over their awesome experiences into 2021. That's not stopping Shadow Jumpers from looking for a new batch of kids to help take on the sun. Two years of experiences jammed into what we hope is an eventful end of the year.
We are looking for kids under the age of 18 who are attempting to do something they have always wanted to try but may have been holding off attempting because of their EPP. Whether that is attempting recess, an outdoor sport/camp, a specific family vacation and more, nothing is off limits. We ask EPP families to submit their story and tell us how we can help make your dealings with EPP easier. Go to our FIND YOUR SHADOW section for more details.
Applications are open now until Friday, April 30th, 2021 and recipients will be announced during the month of May!
CLICK HERE TO LEARN MORE!