Barbara and Tara Haskell
Type of Porphyria
Acute Intermittent Porphyria (AIP)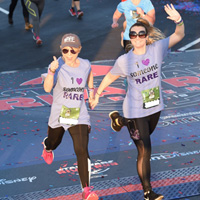 "Hi. I am the mother of a 20-year-old daughter who was diagnosed with Acute Intermittent Porphyria (AIP). AIP is a rare genetic metabolic disorder.
When asked, "What happened to Tara?" Where do I begin?
On January 15, 2019, Tara had excruciating abdominal pains, and her urine was a port wine color. I could have Googled her symptoms, but what did I know, I am not a doctor.
Because it was 2 weeks prior to her menstrual cycle, I thought it may have something to do with ovulation.
Her gynecologist told us to go to the ER. After 9 hours in the ER, she was sent home because her sonogram and cat scan showed nothing. She was given morphine in the ER. That helped the pain. The next day, her gynecologist told her to follow up with her general practitioner.
We went to her primary doctor. He took one look at the color of her urine and said he would treat it as a urinary tract infection and would send a culture out for testing. She was put on Bactrim, which we now know is a "no-no" for those who have AIP. Bactrim caused Tara to vomit.
I left 2 messages with the receptionist for a call back from her doctor to let him know Tara was now vomiting and still in excruciating pain. She can barely stand. A heating pad, hot water bottle and Advil brought no relief. She was not eating and barely drinking fluids. She found some comfort in a hot shower, which she had to crawl to because the pain was so unbearable.
While waiting for her doctor to call me back, I took her to an Urgent Care facility near my house. They took one look at her urine and tested for an urinary tract infection. They said it was a UTI and took her off Bactrim. They put her on Macrobid. Macrobid is also a "no-no" for AIP patients.
Her doctor called me back with her culture results and said it is not a UTI, but a bacterial infection. We were sent to a different ER. After 5 hours, Tara was discharged with a diagnosis of Acute Cystitis without Hematuria (Acute cystitis is a sudden inflammation of the urinary bladder. Most of the time, a bacterial infection causes it.) Cefuroxime and Percocet was prescribed.
Tara's symptoms persisted so back to the hospital we went. She was admitted and after 4 days, Tara was discharged with a diagnosis of constipation.
Tara was still not eating nor drinking with the same severe abdominal pains and PURPLE urine. Her doctor told me to take her to a different hospital. It is here that she stayed for 4 weeks (January 27-February 23, 2019).
When Tara walked into that hospital, she was talking and walking. When she was discharged on February 23rd, we rode home in an ambulance because Tara was no longer walking (or talking). Tara left the hospital not only without a diagnosis but with lab tests still pending.
The doctor who was assigned to Tara while in the ER thought these symptoms were all in her head! Tara received morphine in the ER by the nurse and the doctor yelled at both Tara and I for asking for it. This is the same doctor who told me after weeks in the hospital, had I taken a step back from day 1, "her patient would have walked out of there already."
Even through all her pain and waiting in the ER, at the stroke of midnight, Tara sang Happy Birthday to me and apologized for having to spend my birthday there. I told her, "I wouldn't be anywhere else and I don't care about my birthday, I CARE ABOUT YOU!" After 31 hours in the ER on a stretcher in the hallway, Tara was admitted to a room.
Tara had also been on medication for anxiety (Zoloft). After day 2 in the hospital, they took her off cold turkey because her QT level spiked. It was soon after that, she lost her voice and legs were paralyzed. She had episodes of being non responsive. To me, they were seizures. The Rapid Response Team was called in twice. She was moved from one floor to the cardiac unit where she was put on a heart monitor. They said they were not seizures but muscle movements as seen on the EEG. When she was moved to the Cardiac floor, a nurse asked how old she is. Through my tears, I said she will be 20 in 10 minutes. Right before her first episode of being non responsive (or seizure I believe), I sang Happy Birthday to her with a cupcake. She took a bite of the cupcake and a sip of soda. It was then her eyes rolled in the back of her head. I was never so scared.
It was the psychiatrist that came to see Tara that said it was not all in her head. He asked for a 24-hour urine to be sent out and tested for AIP. It came back POSITIVE. They gave Tara 4 days of hemin treatment. She did not feel any differently. The hematologist that was brought in said that AIP had to be confirmed with a blood test. After another week of waiting for those results, they came back negative for AIP.
Tara had every test under the sun (cat scans, EEG, sonograms, MRIs). All negative. My daughter was tired of being a "pin cushion." She hated the fact that the doctors thought it was all in her head. All but the psychiatrist and myself.
After being discharged, my Livingroom was set up as a hospital room. We had a nurse, OT, PT and speech therapists coming twice a week to work with Tara. In between therapists, we had doctor appointments scheduled with our own doctors. Tara saw a neurologist in CT who said, "If it walks like a duck, quacks like a duck, looks like a duck, it must be a duck." He was 90 percent sure it was AIP. He said some doctors don't like to think outside the box. And because it is rare and most doctors have not come across people with AIP, does not mean it doesn't exist!
Trying to get someone from the hospital she was in to interpret the lab results was like pulling teeth. On 3 separate occasions, when someone took my calls, I was told because Tara is no longer a patient there; they do not have access to her records. I was told to bring them to my own doctor to follow up. The running around I had to do to get answers and the passing of the buck blew my mind.
My primary doctor sent us to another hematologist. I showed him her urine results that came in after Tara was discharged. They were marked in RED and ELEVATED. He said she has Porphyria. He gave us the number of the Porphyria Specialists/Geneticists at Mt. Sinai in NYC.
We are very grateful for the expertise and compassion of Dr. Balwani at Mt. Sinai. She took one look at Tara and her results and told Tara she was beginning hemin treatments the following week. Dr. Balwani said cudos to the psychiatrist who ordered the 24-hour urine test. Porphyria is confirmed with an urine test, not a blood test. Sometimes people are not diagnosed for years. Tara is now part of a study through Mt. Sinai. She wants to help others who also suffer from this disorder.
We have also written letters to the doctors who saw Tara in the hospital and to their supervisors. We wanted to share our experience with the Patient Experience Department at the hospital to prevent what happened to Tara from happening to others. And to also spread AIP AWARENESS!
I believe Tara's AIP attack could have resulted from one or more of the triggers. Possible triggers for Tara were change of eating habits; change of medication; stress; being a female between the ages of 18-40 and attack started 2 weeks before her menstrual cycle. Since the attack back in January to current day, Tara has lost a total of 47 pounds.
Since then, my other 2 daughters and I have been genetically tested. Both my oldest daughter and Tara have been confirmed POSITIVE, deletion was identified in the HMBS gene. The HMBS gene is associated with autosomal dominant Acute Intermittent Porphyria.
Tara's voice has come back and she is getting stronger every day.
On July 17, 2019, Tara suffered a 2nd AIP attack. I took her to Mt. Sinai ER where she received her 1st hemin treatment. She admitted after spending 18 hours in the ER.
She received 4 treatments of hemin during her hospitalization and a low dose of Dilaudid for the pain. Not quite sure what triggered her attack this time. It may have been her menstrual cycle.
KNOWLEDGE IS POWER! Learning about AIP and the treatment of it since Tara's 1st attack, we knew the proper measures to take this time around to help her.
A big heartfelt thank you to my family, friends and coworkers who stood by me during this ordeal and continue to love and support us.
I am also grateful for the APF and the wealth of information you provide. We really appreciate the APF community, for now we feel we are not alone in this.
THANK YOU!!!
Barbara & Family"