Cassandra King
Type of Porphyria
Acute Intermittent Porphyria (AIP)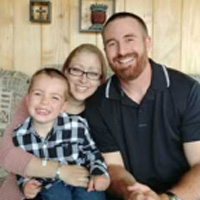 My name is Cassandra King. There are three main things that define me: I am the daughter of the King of Kings (saved by grace through Jesus), I am the wife of Russ King, and I am the mama of Joshua King. There are, of course, other "hats I wear": I'm a daughter, a sister, an auntie, a friend, a volunteer, etc. And though, I really loathe to admit it, there is one other thing that defines me – pain. Constant, unrelenting, heart-breaking pain. A broken body.
I lived the first couple decades of my life with excellent health, perfect attendance in school, no limitations physically. When Russ and I married, we had no sense of concern for anything health wise, and we didn't actually invest in health insurance for ourselves until we'd been married for over 2 years. I was a "work until the project is finished" kinda gal, "eat when it's convenient" kinda gal, and "rest when everything's completed" kinda gal. Russ and I married in May of 2004. After spending a couple months working the summer hay season with his folks, we made our home in southern California so Russ could continue in Bible college. I worked full-time and Russ went to school. We returned to Klamath Falls in 2005 for Russ to continue farming with his folks. And I got a job at our church as the secretary.
In the first week of December of 2006, I had a crazy, full work week of events, meetings, hosting, planning, and office work. I went to church on Sunday morning feeling tired and run down a bit, but knew I had Mondays off, so I'd be able to catch up on sleep. This is not what happened at all. I started vomiting, and we initially thought I'd just caught a bug from being over tired the past week. It got worse on Tuesday, and even worse on Wednesday. Wednesday night we spent in the ER, sent home with a diagnosis of a very large ovarian cyst, pain medication and nausea medication. Thursday was worse, nothing was staying in, so no help from the medications, I started shaking/seizing, seeing things, and more. We went into the ER again Thursday night, and didn't leave the hospital again for almost 4 weeks. I remember snippets of this time, my Russ has to remember it all. I was in so much pain, originating in my abdomen and spreading through my whole body. I couldn't eat, couldn't keep anything down. I was extremely weak, couldn't walk, couldn't dress myself or care for myself. Every touch hurt, everything was fire. They did every test in the playbook, trying to find out what was wrong. All the tests were coming back fairly normal, but I was getting sicker and weaker and worse. Finally, they decided to put in a central line and give me tpn (total protein nutrition) to save my life. I had lost 30+ pounds, was under 100 pounds. After coming and saying that I was "the enigma of the hospital", that they couldn't figure out what was wrong with me and couldn't stop it; the doctors ordered a final test. On Christmas Eve, one of the doctors came in wearing a Santa hat and said, "we're going to send you home for Christmas." I didn't know they had also told Russ that they couldn't guarantee I'd make it, to try to keep her as comfortable as possible. We left with no answers. I was only 22 years old.
I spent the next 3 months recovering, not returning to work until early March. The recovery was hard, I knew how to walk, talk, eat, care for myself…. But had I no strength or stamina to be able to do any of it for myself. A month after leaving the hospital, we finally had an answer. That final test in the hospital came back with levels all relatively normal, except for one level – the porphobilinogen (PBG) level. It was 300 times what it should be. God's providence allowed that one of the residents at the clinic to be the one to see us that day, and she happened to recall a crazy story from med school about vampires and porphyria, and she connected it with my test results. When she first said this, I remember thinking, "this is nuts, and I am going to die in this town with "home-town medicine". But she went on to say that this disease, Porphyria, has various kinds. And they thought I may have type called Acute Intermittent Porphyria.
We were sent up to OHSU to the doctor who had actually written the emedicine.com paper on this disease. He looked at my test results and asked a few questions. Then he told us, "There's 5 porphyria specialists in the country. I'm the one for the northwest part, and you're the first case I've seen of AIP in 10 years." This disease is SUPER RARE! Most doctors and nurses have never even heard of it before. It was God's grace to allow that resident to be the one to see me that day and for her to remember the story about vampires - Because it gave me a diagnosis the very first time, I got sick. I'm so grateful. The specialist went on to say that 60-80% of people that have 1 attack of AIP will never have another, so I could go and live my life normally. We thought, "if you have to have a disease, this is the one to have!"
So, after I had recovered my strength and abilities, I returned to my normal life – work at the church, farm wife, everything. Six months later, we came to understand, I am in the 20-40% of people who will have more and more attacks. In September 2007, I spent a week and a half in the hospital, treating the attack with pain management, nausea medication and hematin treatments through a central line. I was home for 5 days, then back in to the hospital for another 6 days of pain & nausea meds and hematin in yet another central line. Followed by another month and a half of recovery at home. This began a cycle of every 3 months having a severe AIP attack from October 2007-October 2010. Some could be managed at home with pain & nausea meds orally, lots of rest and diet. Some required hospitalization for iv pain and nausea meds, a central line for numerous hematin treatments. The attacks got harder, more severe, with unbelievable pain, and came with new scary symptoms: seizures, bouts of hysteria and anxiety, confusion and mind/memory fog, neuropathy in my hands & arms, feet & legs, motor neuropathy (partial paralysis), and more horrors.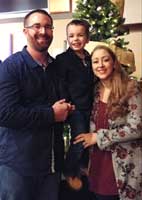 Now, I'm kinda stubborn and I'd try to outrun these attacks. But once the motor neuropathy would begin, I'd cave quickly to going into the hospital for treatment. Russ became the pastor of our church in 2008, and I had the blessing of continuing as the church secretary for him for 2 more years. But, as I was still having these cyclical attacks, it left Russ and his staff under further pressure when I was out for health because they had to do my job as well as their own. And after 3 years of all these attacks, my body was not bouncing back after the attacks. My body was permanently damaged. So, I had to come to the hard decision to "medically retire" – quit my job, that I loved deeply. I had no child at home, I was 26 years old, and I was unable to work because of my health.
In August of 2010, we went for our yearly checkup appt with our porphyria specialist at OHSU. We told him how the pain was not going away after this most recent attack, the neuropathy wasn't going away. What do we do?!? And this is when my life really changed from porphyria. He told us that unfortunately it was time for me to get a chest port and to do hematin treatments as preventative measures monthly. Two months later, in October 2010, I had another severe attack requiring hospitalization. I had my port surgery completed during this attack for the hematin treatments to be administered through the port. This began monthly hematin treatments – with the goal of preventing severe AIP attacks, allowing my body the chance to heal the damage and not create more with further attacks. For the first 4 years, I did treatments once a month. For the last 4 years, I have a treatment every other week. We've been able to stop the 3-month cyclical attacks, but there's still been 4 severe attacks in these years requiring hospital intervention and weeks of recovery. The most recent one being the beginning November 2018.
The treatments have had some success in preventing the number of attacks, but not much success in letting my body heal all the damage incurred from AIP. There's not been 1 day in the past 9 years without severe, constant, intense pain and unrelenting, agonizing neuropathy in my hands and feet. Where we once thought "porphyria will not be something we even think or worry about", is now replaced with the reality of how porphyria affects every hour and every day of my life. It affects not only my body and my everyday life, but also my husband and our marriage, our son, our family, our church, everything – is severely impacted by AIP. My body is broken.
But one thing about porphyria, or rather the form I have – AIP, is that it's a relatively invisible illness – the reality of the horrors are not easily seen in my body (makeup and a curling iron do a lot. Each morning I wake up in incredible, massive pain – physical and neurological. And then I try to figure out what my body will allow for the day in terms of energy, strength and pain endurance. Yes, my body is broken, and my physical state is very hard every single day. But God can take what's broken and so damaged, and make it beautiful. The beauty of brokenness is that God can put the pieces back together. "Is there beauty in every brokenness? It depends… it becomes beautiful when it makes one turn to God." (Paul Jan Chi) He is my hope, He is my sustainer. God is sovereign and Jesus is enough. God is the reason my broken body bears a smile every day – He gives perfect peace and immeasurable joy in the midst of the hard, broken, pain-filled days. His loves in amazing and gives me strength. My prayer each day is to trust God in all things, to obey God and to glorify God through my thoughts, words and actions.
It is all for HIS glory!
"Blessed be the God and Father of our Lord Jesus Christ, who according to His abundant mercy has begotten us again to a living hope through the resurrection of Jesus Christ from the dead, to an inheritance incorruptible and undefiled and that does not fade away, reserved in heaven for you, who are kept by the power of God through faith for salvation ready to be revealed in the last time. In this you greatly rejoice, though now for a little while, if need be, you have been grieved by various trials, that the genuineness of your faith, being much more precious than gold that perishes, though it is tested by fire, may be found to praise, honor, and glory at the revelation of Jesus Christ, whom having not seen you love. Though now you do not see Him, yet believing, you rejoice with joy inexpressible and full of glory, receiving the end of your faith—the salvation of your souls. "(1 Peter 1:3-9)