Terri Witter
Type of Porphyria
Acute Intermittent Porphyria (AIP)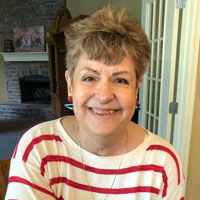 I was diagnosed at age 22 with Acute Intermittent Porphyria. Not knowing that porphyria was in my family, I had surgery in May, at age 21. The anesthetic was a barbiturate, I developed staph infection and given sulpha all within 24 hours. I didn't recover well after the surgery so was sent to Mayo Clinic.
Severe abdominal pain, nausea, vomiting, a blistery rash and no feeling in my hands and feet were my main symptoms. I was a mystery to all of my doctors. Once I arrived at Mayo, I was admitted to hospital and tested intensely for many different things. It took them six weeks to figure out the mystery. I was given the diagnosis of AIP on my twenty-second birthday.
The doctors started with, "We have good news and bad news". The good news was that they had finally arrived at a diagnosis but the bad news was that there was no cure, and at that time, no treatment other than glucose IVs. That was 42 years ago.
All of this took place before the American Porphyria Foundation and there was no Internet. My mom and I spent hours in university libraries trying to learn as much as we could and taking the information back to my small town doctors so they could treat my recurring attacks. I spent all but 90 days of the first five years as an inpatient. I felt like I was the only case of AIP on earth and I was scared to death!
My biggest triggers were my monthly periods, stress and a few medicines. Since then, I am proud to say, I have been involved in seven research projects, including those to develop hematin and histerlin. I also participated in a program to help educate medical students at Mayo Clinic. Hopefully, my participation in those projects has helped someone else.
During the first research project, about two years after receiving my diagnosis, Dr. Pierach, at the University of Minnesota, mentioned that a group was starting a foundation to help with education and support and asked if I wanted my name put on the mailing list. Thus, the dawning of the American Porphyria Foundation! What a blessing! I met pen pals through snail mail, received the quarterly newsletter and had a number to call if I needed help. Since then, I have been active in the APF serving on the Patient Advisory Board, reaching out to others through Facebook, organizing and attending patient support meetings and even getting to speak to the FDA to encourage them to approve experimental treatments.
My journey with AIP was not what I had planned for my life but it has been quite an experience. I have met many wonderful people, learned more than I ever could have imagined about a disease that I had never heard of and been a part of a fantastic group called the American Porphyria Foundation.