Abdul Waheed Butt
Type of Porphyria
Congenital Erythropoietic Porphyria (CEP)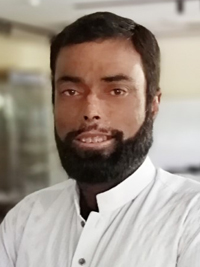 My name is Abdul Waheed Butt. I lived in Pakistan I am facing skin problem name "Congenital Erythropoietic Porphyria (Gunther Disease) CEP. When I was born, I was completely normal like other children. When I was 2-months-old, my mother cut my hand nails there are starting water from it. When the nails water touch my face it becomes Water Blisters on my whole face. My parents checked me from so many Doctors in Pakistan, but they have no idea or treatment how to solve that problem. At-last, we found a skin specialist Dr. Ishfaq Ahmed who said that the disease name is CEP. He advised me to avoid sunlight and covered when I go out. The only treatment of this disease is to avoid sunlight. Then my parents covered me all the time for my safety as they can.
When I was 7-years-old the effect of the disease is gradually decreased and the Blisters which are appeared automatically are disappeared. But there are so many scars on my face and hands.
After that I am starting my study and completed my Graduation degree in Commerce. During my study I have facing so many problems from classmates, when they see me, they behave like that I am not a human or came from other planet.
After graduation I have done my computer course and using internet, I find skin Specialist Doctors in all over the world and send them my pictures and story to review my case. Approximately five years of regular struggle I have received a call of Miss Desiree Lyon from America. She tells me about the details of the disease and advise me to avoid sunlight as you can. Then my Story and pic is displayed on APF website and add my name in Facebook APF Group. In this group I make lots of friends who have CEP and EPP.
APF send me a doctor kit for my blood and urine test to clarify that my disease name after test the report result is CEP.
Now my age is 30 and I am working as Computer Clerk in Medical College in Pakistan. I have so many friends in Facebook it is so useful for all CEP members for discussed their problem and get a fair advised from each other's. I will be sure that the treatment of the disease is discovered by the help of God and we all get the treatment soon.
God said that "There is no disease in the Earth without Cure"
And last, I would like to thank again the APF, Desiree Lyon and Amy Chapman who help me. Thank you so much.