Fide Mirón
Type of Porphyria
Congenital Erythropoietic Porphyria (CEP)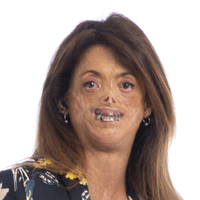 Living Passionately
I am Fide Mirón, I am currently 49 years old, I had a complicated childhood due to the disease I suffer from, Congenital Erythropoietic Porphyria, or CEP.
When I was young, there was a lot of pain and uncertainty. The disease destroyed my hands and face and stole my childhood. I had to have a blood transfusion every two weeks to combat my anemia. My father was the donor, he was the one who kept me alive. I am the third of four siblings; I have two older brothers and a younger sister. When they were all very young, they were tested to see if they were a match for me for a bone marrow transplant, but none were compatible. That option was discarded, and I was told nothing could be done for me.
My parents have always been my guides; I am what I am because of them. My family, in general, is my great support, they have always been there. My father died in a traffic accident when I was only nine years old, resulting in a great loss. But he always told me to look tall and to be strong; it strengthened me. My mother is my best companion and has always been by my side, encouraging me in everything I did. At the same time, she has always given me the freedom to embark on my own path. My childhood, although different, was happy, and I was surrounded by a great family.
I have always been very active and an activist, which has led me to immerse myself in the associative world. I am the president of the Spanish Association of Porphyria and vice president of the Spanish Federation of Rare Diseases. I graduated with a degree in Social Work from the University of Alicante, which excites me because I can use my life experience and degree to be a social transformer. I am passionate about giving motivational conferences that are aimed at students, health professionals, organizations, and work teams whose main theme is motivation and, above all, all those people with concerns and the desire to grow. Due to my extensive experience, I like to contribute to seeing the world with a new perspective and self-improvement. Joy and the desire to live are the weapons I use to focus on what is most important - LIVING PASSIONATELY.
Having Porphyria has made me feel very alone in my life health-wise. I am grateful now for the great opportunity to accompany other patients on their journeys, for being involved in the first bone marrow transplant case in Spain, and for seeing its fantastic results for porphyria and other diseases. Another honor has been meeting the researcher Oscar Millet and his entire team, seeing how the research progresses, and with it, the hopes of changing the future for new patients. That will certainly be the biggest achievement I want to celebrate!
I have always felt that no one should go through the pain and uncertainty that I have gone through. I had to change the messages, generate more information, and defend patients' rights, so I never gave up. I focused on it, and I still do. Hopefully, everything lived serves to improve the future of other patients with erythropoietic porphyria. To other patients with CEP, I would say to them, don't buy the message that nothing can be done. I grew up with that message but have worked hard to show that something can always be done. Look for allies. Many foundations and associations for porphyria and rare disease are doing an excellent job, so I would advise patients to contact associations to share experiences with other patients and professionals.
For people that have never heard of Porphyria, or other rare diseases, I would tell them that the disease is rare, but not the people – we're like everyone else. I hope they understand our ailments and are interested in learning more about the porphyrias. We will generate even greater awareness and respect in a more aware society.
I always end my lectures with these quotes that are important for me to remember:
"I encourage all people to fight, which makes life more logical and beautiful."
"Let's learn the most from our problem (whatever it is), and go from there, let's try to see the way forward. Always forward."
"We must not settle and wait for someone to tow us. It is at the same time the easiest and the worst option."
"Life is very beautiful; we must not blind ourselves. Besides ourselves and our hopes and dreams, there are many other people to fight for."