Khawaja Muhammad Asif
Type of Porphyria
Congenital Erythropoietic Porphyria (CEP)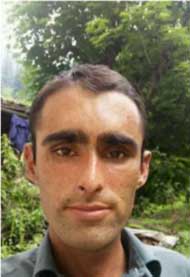 My name is Khawaja Muhammad Asif. I am from Azad Kashmir, Pakistan. I am 26 years old and live with CEP (Congenital Erythropoietic Porphyria).
I've two sisters and a brother. My sisters do not have this disease, but my brother does. In history, my one brother died due to diarrhea who was totally normal. As CEP is an inherited disease, my mother has a history of CEP. One of my mother's uncles had CEP, who died unmarried at the age of 35 due to the severeness of porphyria with losing eyesight, nose tip, and fingers.
I have cutaneous and non-cutaneous symptoms, which are not good. For the past four years, I have been facing hand and skin problems. My finger joints are getting hard; my index fingernails are bending and getting thick. Blisters on the back and fist of the hands, heart rate elevation, breathing problems, and abdominal pain are problematic for me. I live in a village where there is a lot of hard work to do, so that is hard. Somehow I've learned to manage it.
The last attack of sunburn happened three years ago. That took two months to heal and left scars on my face. I remember four severe sunburn infections in my lifetime. Now I have limited myself walking into the sunlight.
I have noticed that my burns and blisters caused by the sun heal very slowly but wounds and blisters caused by friction heal quickly. The skin on the back of my hands is rough and dry which is darkening it. It becomes totally black and there is a need to wash it many times a day. I started doing finger exercises and I thank maybe it will help the finger joints and skin. One more thing is the skin of sun-exposed areas is weak and thin. The skin on the lower portion of my nose and face gets normal whenever I avoid going into the sunlight. Otherwise, it weakens the skin and gets sunburned, which is then a painful process of healing.
I care about eyes. Because the eyes are important, So, I avoid direct contact of eyes to sunlight. Unfortunately, I have lost most of my lower eyelashes which have made my eyes vulnerable to dust infections. Recently I had an eye problem.
Doctors gave me some medicine and I recovered, and my eyesight is normal. I cannot watch TV and work on my laptop till late at night.
I work as a Computer Lecturer for three years in a Gov't college. There are 6 hrs. duty. On my return from college, I have to walk an hour in the sunlight to come home. I never took any medications. I just use Sun Blocks which are not much effective.
There are many cases of CEP in our region. In our village, one family including brothers and sisters are equally affected in a very bad way. They have lost their fingers and noses in childhood and have scars on their faces.
You will see in my pictures listed below will show that I've managed it well.