Nicholas Ashby
Type of Porphyria
Congenital Erythropoietic Porphyria (CEP)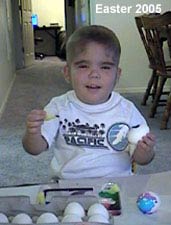 Nicholas Ashby was born on July 10, 2001. He was born 1 month premature and was noted at birth to have hyperbilirubinemia and a hematocrit of 22%. He was also noted early to have decreased platelets. He was treated for this with no resolve to the cytopenias. He has a very thorough work up by his local pediatrician Dr. Ambroson, in Lewiston, Idaho, his hematologist/oncologist Dr. Judy Felgenhauer, in Spokane, Washington, and his pediatric dermatologist Dr. Andrea Domini, in Coeur D Alene, Idaho. Nick's current doctors in Salt Lake City that will perform his bone marrow transplant are Dr. Kushner and team, Dr. Pulsipher and team, and others to be announced. Nicholas has had a total of 3 red blood cell transfusions, and a bone marrow aspiration. In Feb, 2004 he started to break out in blisters from the CEP and now in August we have an answer to his condition.
Throughout the last three years of Nicholas' life we have been searching for the cure of his anemia. Since February, Nicholas' skin started to break out in blisters that we know were caused by the sun. The blisters pop and scab like a normal blister and leaves scars. This was only on his face and hands. They took about 2 weeks to heal, but he was getting more daily until the scabbing and scaring was out of control. After the trip to Salt lake City, and we found out he had CEP, we were also told the severity of it. We know that there are less than 200 diagnosed cases. This disfiguring disorder is very rare.
Long term disfiguration includes brown teeth, thickening of the forehead, jaws, lips and cheeks, bone fragmentation, extreme hair growth over the entire body, delayed learning, and will not go into puberty. Of the 7 we know of with a bone marrow transplant, 6 have lived long term and Nicholas will be the 8th treated this way as far as we know. We are hoping that the doctors will find a donor before flu season due to the fact that Nicholas cannot get any sickness of any kind. This will cause us to put off the transplant until he is healthy.
Editor's note: Nicholas and his family are Sponsors of the APF. Nicholas recently had a bone marrow transplant, a very difficult process. Please pray that he continues to do well while his own new immune system is taking over as it should.