Craig Leppert
Type of Porphyria
Erythropoietic Protoporphyria (EPP)
SHINING BRIGHT - Media
Despite a rare genetic condition, Manchester sophomore linebacker Craig Leppert continues to pursue the game he loves.
By Scott Stump, Staff Writer, Digital Sports, Inc.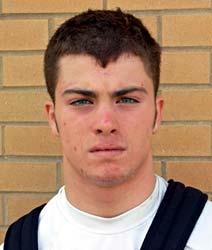 Craig Leppert parts the shade back, looks out the window, and sees one of those days that was seemingly created for football.
The sun is shining, a cool breeze is blowing, and the weather that has tourists flocking to the Jersey Shore is in full bloom.
"Damn it,'' he says, shaking his head and closing the curtain.
A few days later, the remnants of Hurricane Ernesto roll through New Jersey, bringing sheets of rain and gray skies. A smile creases the lips of Manchester's sophomore linebacker. It's going to be a good day.
"That was like the best three days ever,'' Leppert said.
Soon the sun will come back out, and Leppert will do his best to shield himself against it. It has become his bitter enemy, a foe capable of sequestering him in his basement, covered in ice packs and soothing lotion, hoping for the searing pain to go away.
While bare arms, calves and necks are the norm for his Manchester teammates on another hot day, Leppert is wearing a long-sleeved Under Armour turtleneck, gloves, stockings on his legs and a helmet with a black-tinted visor covering his eyes. Under all that, he has 65 spf titanium oxide suntan lotion covering his skin.
Some other players complain about the heat, cursing under their breath.
Leppert doesn't say a word.
"He never complains,'' said Anthony Palmiotto, Manchester's senior quarterback. "He's out there with all that extra stuff on, and you never hear him whine or anything. It makes the rest of us just shut up when we feel like complaining.''
Leppert has a genetic condition known as Erythropoietic Protoporphyria, or EPP. Essentially, he is highly sensitive to sunlight. There also other potential effects, like gall stones or liver damage, neither of which Craig suffers from.
If he is exposed to too much sunlight, his skin starts itching, stinging and burning, sometimes bad enough to put him out of commission for three whole days. There is no known cure for EPP, and it is so rare that it only affects about 300 people worldwide, according to the Genetics Home Reference website.
"It burns you from the inside out,'' Leppert said. "Imagine putting your hand on a hot stove, taking it off and then scraping it with a knife.''
What's Wrong?
Leppert was born in Honolulu, and his family moved several times when his father, Mike, was in the Army. The symptoms manifested themselves when he was only 18 months old, according to his mother, Tracy, but a diagnosis was elusive.
"He would come up to us with his hands swollen up like catcher's mitts, but he was too young to tell us exactly what was wrong,'' his father said.
"We would go to specialists, and some of them thought I was just jerking around,'' Craig said, shaking his head.
When he was five years old, his family moved to Manchester. It was then that they finally got to the bottom of the problem after they went to a pediatrician in Lakewood, according to Mike Leppert. His condition was confirmed through blood tests and verified by Dr. Micheline M. Mathews-Roth of Brigham and Women's Hospital in Boston. Dr. Roth is the leading researcher of EPP in the country, and the founder of the EPP Research and Education Fund.
"She was a life-saver for me,'' Craig said.
It's hard to tell which was worse, not knowing what was causing all of the problems or finding out what the problem was.
"I went to the local library to research EPP, and there was only one paragraph in one book about it,'' Tracy said. "For me, it was worse to find out what it was. All I could think was, 'I gave this to him.' It made me very upset.''
Life indoors or covered completely soon became the norm for Craig, as did a regular regimen of beta carotene pills, soothing lotion, and powerful sunblock. It was soon discovered that his younger sister, Nicole, 12, also had EPP. He also has another younger sister, Madison, 9, who does not have EPP.
Pursuing His Passion
While growing up, Craig heard his father tell stories of his days as a high school football player, so he decided to give it a try while in middle school.
"After the first couple of practices, I realized I didn't stink,'' he said. "So I thought I might as well stick with it.''
His father understood and his mother was like any other mother, worrying constantly about her son.
"It's what he wanted to do though, it's his passion,'' Tracy said. "I didn't want to stop him from doing it.''
"If it was up to her, I'd play AAU basketball inside all year,'' he said before smiling.
He also learned some hard lessons about pushing his limits, often staying out in the sun too long and paying a painful price.
"You won't feel it at first, then suddenly it will strike you,'' he said. "The next thing you know, it's 24 hours later and you'll be covered in ice packs and lotion. It tests your willpower, that's for sure.
"There was one stretch where I didn't sleep in my bed for three weeks. I was in the basement because it's the coldest room in the house.''
In his first year at Manchester, he was the starting quarterback on the freshman team. He couldn't throw with gloves on, so he had to tuck his hands under his shirt between plays. Still, nothing was going to stop him, even the difficult times.
"I went to a camp at Wall in the summer and I had all my stuff on,'' he said. "I felt the eyes on me and saw everybody talking and pointing. It can be tough sometimes. It gets to you.''
Instead, darkened movie theaters have become his friends, places where he'll sometimes spend an entire day. He also makes up for lost time after the sun goes down, hanging out with his buddies from school.
"I'm a pretty nocturnal guy, a party guy,'' he said. "I also love the movies. They can be a man's best friend.''
There is still a part of him that dreads the summer, when the social life of a 15-year-old often revolves around the outdoors.
"During school, you're the man,'' he said. "After school is over (for the year), everybody forgets about you. What I would give to be able to go to the beach, and it's hard to turn down pool parties with everybody.''
Sometimes the still of the night can be worse than the pointing, the staring and having to miss good times with friends.
"When you're all alone and everyone's sleeping, you kind of curse at God a little bit,'' he said. "Sometimes I hope that it will hurt so bad that I'll just go numb. You find out what kind of person you are.''
A Silent Inspiration
His Manchester teammates have certainly taken notice of what kind of person Leppert is, even the team leaders. At a recent practice, Leppert rotated in for some reps at linebacker, jogged back into the shade, and hopped back in for more. When the rest of the team was running sprints at the conclusion of practice, he was jogging in place and doing up-downs on his own.
"He's a younger kid, yet we all look up to him,'' Palmiotto said.
"He makes you want to never take a play off,'' said senior Calvin Zawacki. "He always pushes it. He'll go off for two plays and then sneak back into the huddle. He could stand there and do nothing when we're conditioning, but he does his own.''
"I think he's one of the hardest-working players I've ever known,'' said senior wide receiver Andrew Dunbar.
Two weeks ago, he broke his right thumb and kept playing without telling anyone before finally getting it put in a cast that still allows him to play.
"I've got kids complaining about their little ankle injury or something, and here's this kid playing with his condition and a broken thumb and not saying a word,'' said Manchester coach Rob Paneque. "He's just an amazing kid.''
The cruel coincidence surrounding Leppert is that the Hawks are one of the few teams in the Shore Conference that do not have lights at their home field. They will play only one night game this year, the season opener tonight against Wall. Mike Leppert is trying to spearhead a drive to get lights for Manchester, and hopes that his son's extraordinary perseverance may help the cause.
As for Craig, he just wants to be seen for what he is – a starting linebacker for the Hawks.
"I don't like to be babied, or seen as weak or anything,'' he said.
That couldn't be further from the truth, as anyone who knows Leppert will attest.
Everyone who has seen his determination up close also knows one other thing.
He may not be able to absorb the light, but he is more than capable of providing some to the lives of everyone he meets.
E-mail: stump@digitalsports.com.