Shawn Willis
Type of Porphyria
Erythropoietic Protoporphyria (EPP)
Where there is a Will, There is a Way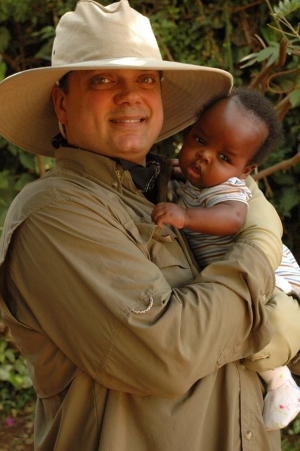 My name is Shawn Willis, and I have EPP. I am 44 years old. I was diagnosed with EPP when I was eight. Prior to my diagnosis, I remember dealing with several issues. I remember the pain and the long nights with my mom at my bedside doing everything in her power to make me feel more comfortable. Those days were difficult. After my dermatologist correctly diagnosed me, my life began to improve.
Today, I am married and have three children. My wife of 23 years is Lori. Our children are all older and it has been a wonderful adventure raising them. My oldest is Ashley (21), Katie is next (18), and Austin is my youngest (16). None of them are symptomatic, thank goodness.
Early on in my marriage, Lori and I decided that the sun was not going to keep us from living as normal a life as possible. She has always been a source of strength for me. When she sees a way for me to participate in fun activities, she does whatever it takes to make it happen. Many of you who are active on the APF Facebook page have seen my pictures. I have to give her the credit for the wetsuit idea. At first, I was scared! The thought of being out in the Caribbean ocean or on a remote beach terrified me. But she was convinced that this would work and that I would fully enjoy myself. Well, the rest is history and my wife, once again, was right. She and I took a cruise in February of 2013. We went on a kayak excursion in the open ocean. There I was, kayaking! In full sun! I had the time of my life! It was so wonderful that we decided to take another cruise last year. This time, we took the whole family. We went to Cozumel and Belize. While in Belize, our excursion was to the barrier island pictured here… We had the best vacation ever! The whole family wants to do it again.
I also travel to Uganda once or twice a year for mission work. I don't wear the wet suit in Uganda…ha-ha. That would get a few looks! I rely on my mask and drape hat from Sun Precautions. I haven't yet mentioned the mask and drape hat. Without these items, I would be home bound most of the time. I am cautious not to wear the mask in tricky situations, but most people react well the majority of the time. I wear it in the car, around the house, and sometimes in public. I don't go into banks, government buildings or any other place where tensions may be high due to my presence. For instance, while in Cozumel, I took the mask off as I entered retail stores. I didn't go into any jewelry stores, etc. I'm often asked, "Don't you feel weird going into public dressed like that?" My answer is, "YES! Wouldn't you?" But if I don't, then one of two things is going to happen: 1. My children (and I) miss out on having an active father in their lives; 2. I end up in pain and still miss out on their lives. It has been very difficult for me to go outside in that get-up, but if I don't, the whole family suffers. This way the entire family wins! So what if I suffer a little bit of a hit on my pride. I have to thank my children and my wife for being strong enough in their character and in their faith to walk in public with me dressed the way I dress. They seem excited to just have me with them. I can't begin to express how that makes me feel as a dad and husband.
I'm thankful to say, because of the drape hat, mask and wet suit; I will never miss another mission trip, outing or outdoors activity again!