Katie Scott
Type of Porphyria
Porphyria Cutanea Tarda (PCT)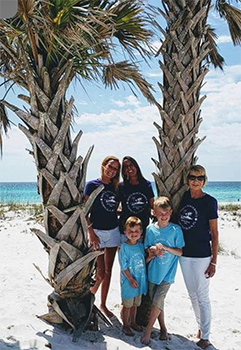 The long road to a diagnosis begins here, picture it, spring break! Pensacola, Florida 2018.
I was 55 and decided that I needed a vacation from Kentucky. I wanted to take my two grandsons Jackson, then 10 and Alex, then 5, to see the ocean for the first time. My husband would be working out of town and couldn't go. I asked my mom and my daughter to go along because I had been feeling poorly lately (at this time I was awaiting the results to see if I had hereditary hemochromatosis- which I do) and felt like I needed another grownup with me. On the trip down I had an upset tummy but just discounted it to nerves and junk food. The first day we were there it rained so we went to a museum. The whole day my tummy ached and I felt like I was going to puke.
The next day was a perfect beach day. We loaded up and we went to the beach. The first thing I did was stick my big toe in the water. Immediately I felt like I was being electrocuted; Shocked throughout my whole body. I knew it wasn't a sting or a bite.
We hadn't been at the beach 15 minutes and my skin was on fire. I asked the others if it seemed unusually hot. They agreed it was a hot day. But for me it was intolerable. We stayed a few more minutes and I broke the news that we had to go back to our condo. I got back to the bathroom and got a shower. I felt like I had a bad sunburn (I don't typically burn). I remember my hands feeling like they were on fire and I put a bucket of ice in the sink and stood there with my hands on ice. That night my mom said I had a seizure but I don't remember. It was a miserable trip for me but i smiled through the pain for my grandsons.
When it was time to leave my daughter ended up doing all the driving home. My hands were still burning and little blisters started popping up. Some of the blisters were really big and seemed to be getting bigger. I had called my doctor and he arranged for a dermatologist appointment for me. The dermatologist office told me not to pop the blister because the doctor may want to send the fluid to the lab. The blisters got really big. Before I could even get into the dermatologist I had been reading up on Hemochromatosis and I asked google "hemochromatosis with blisters on sun exposed skin" and boom! PCT popped up! I read everything and all signs point to it. I called my doctor and he got me in to see a hematologist. Dr Obiageli Ezewuiro listened to me try to explain everything (even though I couldn't pronounce half the medical terminology I was quoting) and I believed that in addition to the hereditary hemochromatosis, I also believe I have porphyria. She gave me a cup and told me to poop in the cup, freeze it and return it to the hospital lab. I did. First lab technician dropped my poopsicle and spoiled the sample. I repeated the process and a long 10 days later it was confirmed! I was given a paper saying that I was rare and special but it went downhill after that. Dr Ezewuiro left for Atlanta and I went through 5 new hematologists! It became a family joke that "dr Katie is going to school the doctor", as I generally know more than they do.
It has been a struggle mentally! In the past 4 years, my mama died during covid. Staying home was what I had always wanted. I was built for quarantine! It's 2023 and I haven't seen or talked to my children since my moms funeral. They all say I am crazy. (That's all they read about porphyria). Mom's service was all a blur. No major hiccups in this other than a lot of family and friends couldn't get out so it was not the huge crowd that was at my dads funeral. They don't answer my calls or texts. I don't know why.
I just try to live my best life and stay positive. I don't eat red meat anymore except on phlebotomy day I treat myself to a little hamburger. I carb up whenever I'm feeling "porphyric".
I'm really bad about canceling plans. People don't generally understand even though they say they do. They don't.
I was awarded disability on the grounds of photosensitivity. I had to install spf 50 on my wwindows and spf 60 tint on my vehicles. Thank you to he APF for writing a letter in my support.
I have felt pretty good since then…mentally! I FINALLY felt like someone believed me.
I think this is the most profound thing… professionals need to listen to their patients. How many times I wanted to scream "I'm not a drug user/seeker"!
Finally after getting Medicare I can see other doctors and hope our cancer center lands a good one!
I live in western Kentucky with my husband Richard and our 3 goldendoodles Lucy, Annie, Dolly and our elder toy poodle Bentley.