Melissa Nagin
Type of Porphyria
Variegate Porphyria (VP)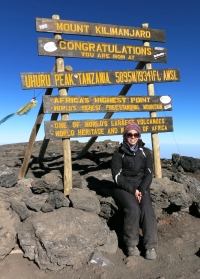 It started as just as thought and over the past year became a reality and the trip of a lifetime. I am 29 years old and have Variegate Porphyria that was diagnosed 8 years ago.
The road to a proper diagnosis was a bumpy one that involved hematologist after hematologist after dermatologist and many primary care physicians. I first started having symptoms when I was a sophomore in college, living in Arizona. I began to blister all over the tops of my hands and my face, my skin also became very fragile and was being cut and bruised easily. My primary care physician attributed the symptoms to all the hiking I was doing. But it continued to get worse and the blisters hurt, especially once they popped and where open. I saw a few different dermatologists and they did not have any ideas. When I was home in New York for a school break I saw a dermatologist who's first practice was in hematology. She biopsied a blister and made the umbrella diagnosis of porphyria, actually thinking it was Porphyria Cutanea Tarda. I was referred to see Dr. David Bickers who is a porphyria specialist in New York City. Prior to meeting with him, he asked if I could put together a timeline as far back as I could remember; include where I was living, what I was eating, what medications I was taking, and anything else I could remember. My parents and I met with him and after looking at the timeline and various other blood tests he made the connection between starting to take birth control, living in Arizona and starting to blister. Almost 2 years after starting to have symptoms, I was diagnosed with Variegate Porphyria. At this time I learned that I was very sensitive to the sun and allergic to medications that are metabolized by my liver. I was a bit in shock, but made a promise to myself that I would never let my disease dictate who I am and what I can and cannot do. I recently proved this to be true and took a trip to Tanzania and successfully climbed Mount Kilimanjaro.
The Lemosho route would be our home for 8 days. With our head guide Moses, 2 assistant guides, 2 cooks and about 25 other porters, 5 of us from the states started our journey up the mountain. Pole Pole (slow in Swahili) was a word used often, stepping very slowly as we began our journey to 19,000ft above sea level. Camp 1, Forest Camp (9120ft) was where we spent our first night. When we arrived at camp our tents, already set up with cots and bags delivered, where waiting for us. In the mess tent warm drinks and snacks filled the table. All of us in awe about how amazing everything was enjoyed a snack and found our way around camp. Dinner followed soon after and than early to bed. Knock knock, which was our wake up call every morning- as we were greeted with hot water to wash with and coffee or tea. Breakfast, followed by a song and dance about Kilimanjaro that would become stuck in all our heads for the remainder of the trip. We continued up the mountain to Camp 2, Shira 1 (11,482ft) and Camp 3 Shira 2 (13,779ft). The affects of the high altitude began to set in, a constant headache and fatigue. It became hard to sleep flat and was just uncomfortable. Under the leadership of our guide Moses, we learned proper breathing and hiking techniques to combat these feelings and continued upwards.
Camp 4, Lava Tower proved a rough night for the whole group. At just over 15,000 feet everyone felt horrible and did not sleep at all. The following day we continued to a lower altitude at Camp 5, Karanga Camp (13,123ft). Everyone feeling a little better with the decrease in altitude, the summit was in sight. Now up in the clouds, the views where amazing and my attitude changed from being unsure if I would make it to the summit to believing in myself. Camp 6, Barafu Camp (15,019ft) was base camp to summit. We got into bed around 7PM to try and get some sleep, but nerves and excitement about the upcoming summit proved too much. At 11:30PM knock, knock happened and we all prepared for the summit. Layers and layers of clothing, water, snacks and packs, we were ready to go.
Prior to leaving camp our group of 5 with our 3 guides stood together, held hands and spoke words of a safe climb. It was midnight and we set out for the summit of Kilimanjaro. Pole pole, with headlamps lighting the way we fell into line with the few hundred other climbers hoping to reach the summit. The stars where beautiful and I was left to my thoughts, while trying to continue to breath and reassure myself I could do this. I started counting steps as a way to keep my mind occupied. Around 6:30AM the sun began to rise, we had been hiking for six and half hours and where about 2 hours from the summit. We continued up, hand in hand, and with the encouragement and support from the group. At 8:30AM we arrived at Uhuru Peak 19,341ft above sea level, took some pictures and very quickly turned to head back down. The altitude was a struggle for me and I was extremely fatigued due to the lack of oxygen. As I started down the mountain I began to think more clearly and make sense of what I had just done.
We arrived back to base camp around 11am took a short nap and than headed out to our last camp. Sleeping at a much lower altitude felt great and gave us the energy for our last day of hiking. We arrived at Mweka gate where we had our last lunch together with celebratory drinks, loaded up into the van and headed back to Arusha.
45 miles, many gallons of water consumed, self doubt, friendship, tears, laughter, pain, lots of Ibuprofen, support and encouragement brought me to the top of the world. This trip proved to myself that even though I have a rare genetic condition, with some extra preparation, lots of sunscreen, proper sun clothing, and lots of snacks nothing can stop me and anything is possible!