The APF is pleased to announce the recipients of this year's President's Awards. Awards are granted to members of the APF community who go above and beyond in their support of our mission.
Jennifer Beck (EPP)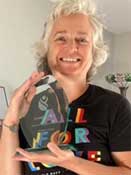 Jennifer has been a visible force for the APF and the porphyria community. From participating on the APF Membership Advisory Board to being keynote speaker on behalf of the American Porphyria Foundation at the opening NORD Summit session, as well a continual presence on social media, Jennifer has championed for those with porphyria.
---
Janie & Jerry Williams (AHP)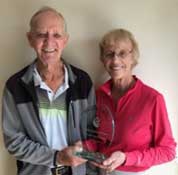 Janie and Jerry have been staunch supporters of the mission of the APF for many years. We have been proud stewards of their generosity; their support has contributed to the implementation of valuable programs and porphyria awareness.
---
Manisha Balwani, M.D.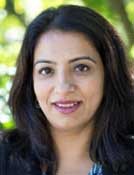 Dr. Balwani serves on the APF Scientific Advisory Board and is a Professor in the Department of Genetics and Genomic Sciences at the Icahn School of Medicine at Mount Sinai, New York City. In addition, she is an investigator for NIH-supported Rare Diseases Clinical Research Network's Porphyrias Consortium. Her clinical interests include Lysosomal Storage Diseases and the Porphyrias. Dr. Balwani is a tireless supporter of the porphyria community. Her expertise as both a clinician and a researcher have served to advance porphyria patient care and treatment. The APF is very appreciative that Dr. Balwani is beyond generous with her time and talent!
We wish to officially congratulate our 2021 recipients and thank them for their dedication, generosity, and hard work on behalf of the APF.