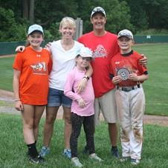 Ben, Colleen, Kate, Tyler and Morgan
Last – but certainly not least…
Shadow Jumpers is pleased to announce the FIND YOUR SHADOW 2019 family that has been selected for a trip to Disney!
Congratulations to…..
THE MCKILLOP FAMILY!!!!
Congratulations, Morgan. You and your family submitted an amazing application. The Shadow Jumpers team looks forward to planning a *safe* and fun trip of a lifetime.