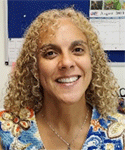 We are sad to say farewell to the wonderful Iany Schneider who has served as our Office Manager for the past two years. Iany has managed the abundance of work that flows through the APF office with dedication, professionalism and kindness. The porphyria community has been blessed with her service to our patients and physicians. Iany – we wish you wonderful things in your next chapter!
And…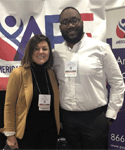 We welcome Megan George to the APF office! As our Advocacy and Program Director, Megan will manage APF office initiatives and additional projects and programs. Megan comes to the APF with previous non-profit rare disease experience, as she previously connected with Edrin, our Patient Services Director at an industry conference in 2019. We are delighted to have her as part of the team. Please join us wishing Megan a warm welcome Megan@porphyriafoundation.org.
Pictured Above: Megan with APF Patient Services Director, Edrin Williams at the 2019 Liver Meeting in Boston, MA.