Greetings, Porphyria Warriors,
Porphyria Awareness Week 2021 is HERE!
This week is dedicated to our cause, though we believe that awareness is a year-round effort and we will continue to lift our voices throughout 2021. The APF has created social media activities, daily events, videos, Facebook Live and Zoom meetings, logos, and materials and we will spotlight each of the different types of porphyria. But this week is all about YOU and how you can spread awareness. The information for your use is available on porphyriafoundation.org. Check out Porphyrias at a Glance which highlights each type. We hope you will participate in some, or all, of these events…and implement some of your own.
#LETSTALKPORPHYRIA and welcome a conversation about our group of rare diseases. Tell one, tell three or tell one hundred people – friends, doctors, the public – about how you feel and the issues we face.
I am in awe of each and every one of you - patients, physicians, researchers, scientists, nurses, advocates, partners – all with an eye on the future of porphyria.
We thank you for your tremendous and continued support. The APF remains relentlessly focused on research, access to treatment, patient and physician education, advocacy, and supporting this wonderful community.
Throw on your purple swag and please stay safe!
Kristen
Global Leaders Unite to spread awareness! https://www.youtube.com/watch?v=RyLlL8HNjAY
How will you get the conversation started? Get creative and let us know how you will get involved - at a safe distance. We hope that you feel empowered to raise porphyria awareness within your communities.
Share your ideas/stories at: general@porphyriafoundation.org or edrinw@porphyriafoundation.org
#LETSTALKPORPHYRIA
---
Schedule for Today - Saturday, April 10
WEAR PURPLE DAY!!!!
MAKE A CHANGE ON FACEBOOK
CHECK OUT THE PAW CALENDAR OF EVENTS
---
SEND US YOUR PHOTOS AND STORIES FOR A SATURDAY #PorphyriaAwarenessWeek ;ROUND-UP
Purple shirt? Purple Hair? Purple Nails? Furry friends? An interesting conversation?
Send your pictures and/or stories to: general@porphyriafoundation.org
Why Purple?
The terms porphyrin and porphyria are derived from the Greek word porphyrus, meaning purple. Urine from some Porphyria patients may be reddish-purple in color due to the presence of excess porphyrins and related substances in the urine, and the urine may darken after exposure to light.
---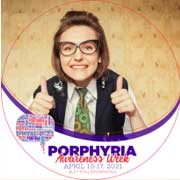 Make a Change
Add our custom made Facebook Frame and Banner to your profile in support of Porphyria Awareness Week! Encourage your family and friends to do so!
Instructions:
Go to your FB Profile
Click "Update Profile Picture"
Click "Add Frame"
Search "Porphyria"
Select "PAW2021"
---
Porphyria Awareness Week Events
Saturday, April 10
WEAR PURPLE or YOUR PORPHYRIA AWARENESS SWAG!
Change You Facebook Profile Picture
SEND US YOUR PHOTOS!
Sunday, April 11
CEP/ADP member story highlights!
Monday, April 12
#LETSTALKPORPHYRIA
Zoom Session with Nicole Castellano! Send us an email to RSVP TODAY!
PCT member story highlight!
Tuesday, April 13
Shadow Jumper Challenge EPP/XLP story highlight!
Wednesday, April 14
PORPHYRIA LIVE with Dr. Bruce Wang via FB. Will you be joining us?
AIP member story highlight!
Thursday, April 15
VP member story highlight
Friday, April 16
TAG YOUR MEMBERS OF CONGRESS ON SOCIAL MEDIA ENCOURAGING THEM TO JOIN THE RARE DISEASE CONGRESSIONAL CAUCUS!!
APF Click Campaign
Saturday, April 17
WRAP PARTY! Thank You for Spreading Awareness - Reach out to those who have been supportive to thank them!