Porphyria Awareness Week 2021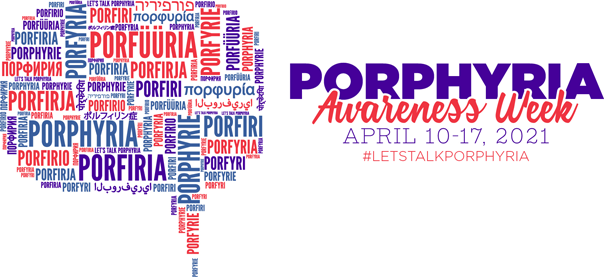 Porphyria Awareness week is an opportunity for you to
create awareness in your community!
#LETSTALKPORPHYRIA is a new campaign focused on starting the conversation about Porphyria. This campaign encourages our community members to educate and partake in a dialogue with their peers and healthcare professionals about Porphyria.
How will you get the discussion started? Get creative and let us know how you will get involved. We hope that this campaign empowers you to raise porphyria awareness within your communities.
Community Events
COMMUNITY EVENTS Across the US, and even the globe, patients are planning community events. A Virtual Fun Run/ Walk, delivering Patient and Physician Education Materials, reaching out to local media, influencing members of congress, hosting virtual events with your community educating them about porphyria, attending the FB Live Event with Dr. Bruce Wang, …. what will you do? *Whatever you do, please stay safe and adhere to all social distancing guidelines and COVID-19 protocols. *
LEGISLATIVE EFFORTS Influence your members of congress by asking them to join the Rare Disease Congressional Caucus in support of the American Porphyria Foundation. You can find the letter attached here. This letter will be sent to members of Congress on behalf of all patients and familied affected with Porphyria. You can also click here to send an email directly to your member of congress and their staff.
WEAR PURPLE DAY / WEAR YOUR PORPHYRIA SWAG! Did you know that Porphyria is named from the ancient Greek word porphura, meaning purple? On Saturday, April 10, 2021, we encourage you to support Porphyria Awareness Week by wearing PURPLE! Share your photos with us by tagging us on social media and using the hashtag #LetsTalkPorphyria or emailing them to Edrin Williams, Director of Patient Services via email at edrinw@porphyriafoundation.org to be featured on the APF website and even our quarterly newsletter.
Events take place across the globe in recognition of Porphyria Awareness Week. We encourage you by participating in this week's activities or even hosting your own event. What will you do to get involved? Tell us, we want to know!
Submit your photos and events to Edrin Williams, Director of Patient Services to be featured on the APF website. We are excited to show the impact of everyone's efforts across the U.S.
2021 CALENDAR OF EVENTS:
April 10
WEAR PURPLE or YOUR PORPHYRIA AWARENESS SWAG! SEND US YOUR PHOTOS!
April 11
CEP/ADP member story Highlights!
April 12
#LETSTALKPORPHYRIA Zoom Session with Nicole Castellano! Send us an email to RSVP TODAY! PCT Member story highlight!
Nicole Castellano Zoom Link and Time:
Time: 8:00 PM eastern time
Join Zoom Meeting
https://zoom.us/j/2233118000
During International Porphyria Awareness Week, be sure to tune in to The Balancing Act airing on Lifetime TV on Monday, April 12 at 7:30 a.m. ET/PT to watch an Alnylam-sponsored segment of "Behind the Mystery" focused on AHP.
April 13
Shadow Jumper Challenge EPP/XLP Story highlight!
April 14
PORPHYRIA LIVE with Dr. Bruce Wang via FB. Will you be joining us? AIP Story highlight!
April 15
VP Story Highlight
April 16
TAG YOUR MEMBERS OF CONGRESS ON SOCIAL MEDIA ENCOURAGING THEM TO JOIN THE RARE DISEASE CONGRESSIONAL CAUCUS APF Click Campaign
HCP Member Story Highlight
2021 Click Campaign
April 17
WRAP PARTY!
Merchandise
New merchandise will be available very soon in the APF Store - https://porphyriafoundation.org/apf-store. (Check back soon for updates)
Logos and Materials
Please use the attached logos for your local events.
Porphyria Awareness Press Release is included here.
Digital and print logos are included here.
Awareness Week Social Media images included here.
Printable informational flyer is included here.
Porphyrias at a Glance is included here.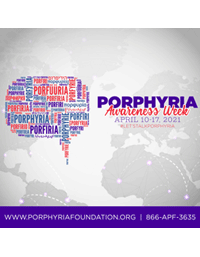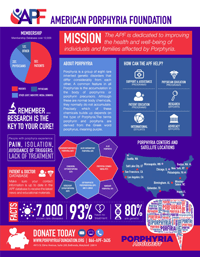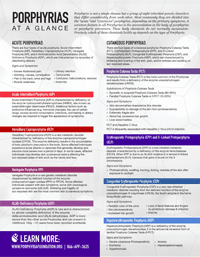 Facebook and Social Media
Open this link to join our Facebook groups: https://www.facebook.com/AmericanPorphyriaFoundation/
The APF will be sharing Member Stories, Medical Moments, trivia and more each day in our open and closed Facebook groups. Make sure to join before April 10th! You can even change your photo with a new Facebook frame. You can also set up a fundraiser on your personal page supporting the APF. Also make sure to follow us on Twitter (@Porphyria_Help) and Instagram (@americanporphyriafoundation)!
Change your profile photo and search PAW2021 to add the frame to your photo!