If you have attacks of Acute Porphyria you may be familiar with the Drug Panhematin.
It is the first Orphan drug & has helped many around the world.

Do you know who make this Drug?

Have you received this drug and have questions?

Need patient assistance in paying for Panhematin?

Having trouble with Commercial & Private or State programs?

Please give the APF a call ask to speak with Edrin or Kristen. USA {1.866.APF.3635) You may also email Kristen: kristen@porphyriafoundation.org & Edrin: edrinw@porphyriafoundation.org

They can put you in touch with a Case Manager who can walk you through step by step and getting your problems solved. The APF is dedicated to helping you the PATIENT first. www.porphyriafoundation.org

In addition, here is some good reading material on Recordati

Acute porphyria
The porphyrias are a group of inherited disorders that affect the body's biosynthesis of haem. Haem is vital for red blood cells to carry oxygen. Deficiencies occur in particular enzymes leading to the build-up of substances called porphyrins and porphyrin precursors.
Acute hepatic porphyria causes acute attacks, unpleasant symptoms that usually develop rapidly and last for a relatively short time. These are uncommon and are associated with a non-specific clinical presentation hence making diagnosis difficult.
Experts have identified three main types of acute porphyria and one extremely rare type, and alll of them are genetically inherited.
Acute intermittent porphyria
Variegate porphyria
Hereditary coproporphyria
Aminolevulinate dehydratase deficiency porphyria
Most people with an acute porphyria never experience any health problems, however, about one in five people will experience an attack of symptoms. Females are more likely to experience an attack than males and the most common age for attacks to occur is between the late teens and early forties.
What happens during an attack?
Acute attacks almost always start with severe unexplained pain, usually in the abdomen but sometimes in the back or thighs. It is also quite common to have nausea, vomiting and constipation. Acute porphyria can also affect the nervous system causing numbness and muscle weakness. This can even occur in the chest wall, which can in turn lead to breathing difficulties.
These symptoms can become very severe and even life-threatening if not managed early, so it is vital that a doctor is seen as soon as an attack begins.
Many acute attacks are triggered by avoidable causes, such as alcohol, medications and low-calorie diets. Variations in hormone levels are also a common factor, which is why females tend to experience attacks more than males.
With proper drug therapy, acute porphyria progression can be halted or symptoms can be reduced.
For more information on the safe drugs' list, please check www.drugs-porphyria.org.
Recordati Rare Diseases is supporting the European Porphyria Network. European Porphyria Network in the development of information for patients and families.
Recordati Rare Diseases has also supported the development of information for patients and their families. Click on the picture below to download the patients' brochure.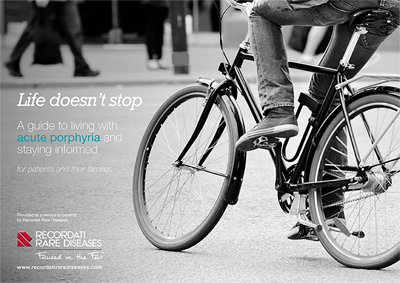 Patient organizations
Our list of patient organizations may be incomplete. Please help us keep this updated by contacting us.
Recordati Rare Diseases is not responsible for the nature, content and availability of external websites.

---