Tips and Stories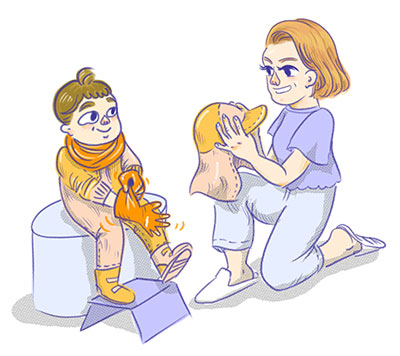 We know growing up with EPP has its challenges. You may have to cover up and look different outside or may be stuck indoors on those hot sunny days but what's important is to know that you aren't alone out there. Many kids, just like you, are dealing with long days finding things to do to dodge the sun and ways to let loose at sun down. Here at Shadow Jumpers, we've developed a section for Kids to hear from people just like YOU! Check back here soon to read some amazing testimonial stories from kids in our EPP community. EPP may be hard, but it's something we continue to tackle together.
Tips
Have a tip to share? Email it to shadowjumpers@porphyriafoundation.org
CLOTHING:
I wear an oversized hoodie – the hood covers the sides of my face. (Brady, age 12)
Cut thumbholes in your sleeves to keep your jacket or sweatshirt over your hands without sliding up. This works great for young kids! (anonymous)
Wear a big hat and walk on the shady side of the street! (Brenda, EPP)
I have a bag prepared with a long-sleeved shirt or light jacket, hat, gloves, and face cover (I use a bandanna, some use a buff) that I take with me on cloudy days so If it clears up I'm covered and don't put myself in DANGER. (Rob, EPP)
Our son wears a zip-up lightweight jacket with a hood in the summer so that more he can unzip it to get more air and stay cooler.
Buy inexpensive sports gloves (for example, at Five and Below). We cut the tips off the fingers so that he can still manage things with his hands.
QUICK SHADE!:
Use a taller person as shade (Rob, EPP)
Walk next to buildings for shade (anonymous)
Tell teachers, coaches, other parents, etc. that THEY are your child's quickest protection…just stand between them and the sun! (Kristen, caregiver)
Hold their hands to protect them from the sun – especially when you don't have any gloves.
Always put your back to the sun.
SCHOOL:
Meet with teachers at the beginning of each year to explain EPP and offer guidelines for safety (caregiver)
Initiate a 504 plan for your child. (Ask the APF for a copy of a sample plan!)
Make sure your teachers know that your child needs a safe place for fire drills, recess, physical education class and field trips.
DRIVING:
Carry a blanket or towel in your car at all times and close it in the top of the window to provide shade. (Kristen, caregiver)
Have your car windows tinted with as dark as possible tinting that is allowed in your area.
VACATIONS:
We always bring along a canopy on vacation. We can set it up wherever our son is to provide him some safe shade. (EPP caregiver)
THINGS TO DO INSIDE:
So often during the summer I would go to the movies while all my friends were away during the day at camp. From the popcorn to the cool temperature to combat the hot summer days, I would spend hours at a time throughout the week at my local theater.The downside? So many movies meant so many tickets which meant so much money spent.That's why, with this new thing called MOVIE PASS, going to the movies has been more affordable. For one flat monthly fee of $9.95, movie passer customers can see one movie a day each day for the month. To sign up and too see theaters in your area qualify go to https://www.moviepass.com/
THINGS TO AVOID:
Remember that water and snow reflect the sun!
Sun comes through windows, too.
UV INDEX APPS:
Hey Shadow Jumpers! Here's a cool tip I wanted to pass along… (Craig, EPP)
People with EPP often check the UV index every day. I know I regularly check the UV index for the day to know what I should wear or think about doing. So often people traditionally check the newspaper or kids rely on their parents. Today I wanted to share with you some great UV Apps!
Wolfram Sun Exposure Reference App
Based on your skin type, what SPF you're wearing and the UV forecast for your location, this comprehensive app can predict exactly how long you can stay in the sun before burning. Organizing a trip to the shore? Check out a five-day UV forecast displayed on a map, and find out what hours each day you should minimize sun exposure. ($0.99; available for iOS)
Ultraviolet ~ UV Index
Keep things simple with this cool tracker, which displays the current UV index in your area using a large, vibrantly colored circle. Blues and greens mean you're in the clear while reds and purples mean a dangerously high index. General sun safety advice will tip you off for when it's time to put on a hat, apply sunscreen or avoid going outside altogether. Just the bare necessities for when you're bare at the beach. (Free; available for iOS)
EPA's SunWise UV Index
The U.S. Environmental Protection Agency designed this easy-to-navigate application, which delivers location-based UV index information. Ideal for plan-ahead types, the most useful feature is the color-coded hourly forecast that makes it easy to spot when the UV index is highest. (Free; available for iOS and Android)
(PLEASE NOTE: EPP reactions occur from visible light. UV Index applications and apps will ONLY indicate ultra-violet light, not the visible light range that affects EPP)
Stories
You are not alone! There are kids across the US who jump from shadow to shadow just like you! You can read all about them here…
Do you want to share your story? Email us at shadowjumpers@porphyriafoundation.org.